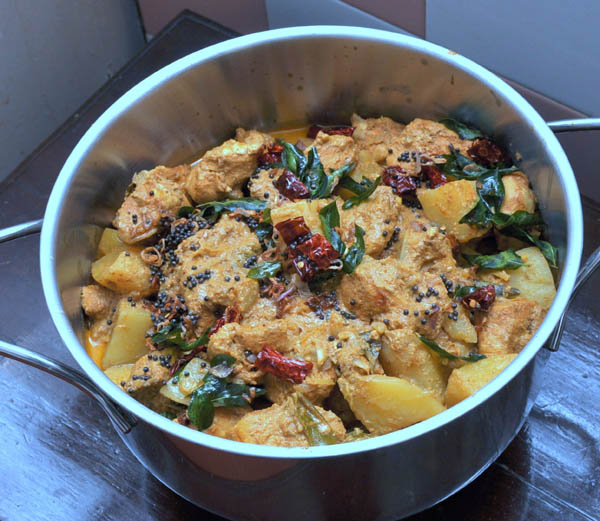 Ingredients
Chicken pieces – ½ k
Oil – 2 tbsp
Potato – 2 kilogram
Salt to taste
Coconut Thick – ½ cup
Green masala
Onion – 1 large
Ginger – 1 inch
Garlic – 2 cloves
Green chili – 3 to 4
Curry leaves – 2 sprig
Curry powder
Coriander powder – 3 tsp
Chili powder – 1tsp
Turmeric powder – ¼ tsp
Black pepper corn – ½ tsp
Cinnamon – ½ inch
Cloves 4
Method
1. Cut the chicken into medium size pieces. wash well and rub with a little turmeric powder and vinegar. Keep this aside.
2. Slice the ingredients for the green masala finely.
3. Heat oil in a heavy pan and add the sliced ingredients. When it starts turning color, add the curry powder along with 1/2 cup water. cook on a very low flame till the water dries out and the oil separates.
4. Add the meat pieces and fry for a few minutes.
5. Add hot water and potato and bring this to a boil. Reduce the flame, cover and cook till the meat is tender.
6. Just before serving add the coconut milk, simmer and serve.
7. Curry powder can be prepared and kept in an air tight jar and used as required.